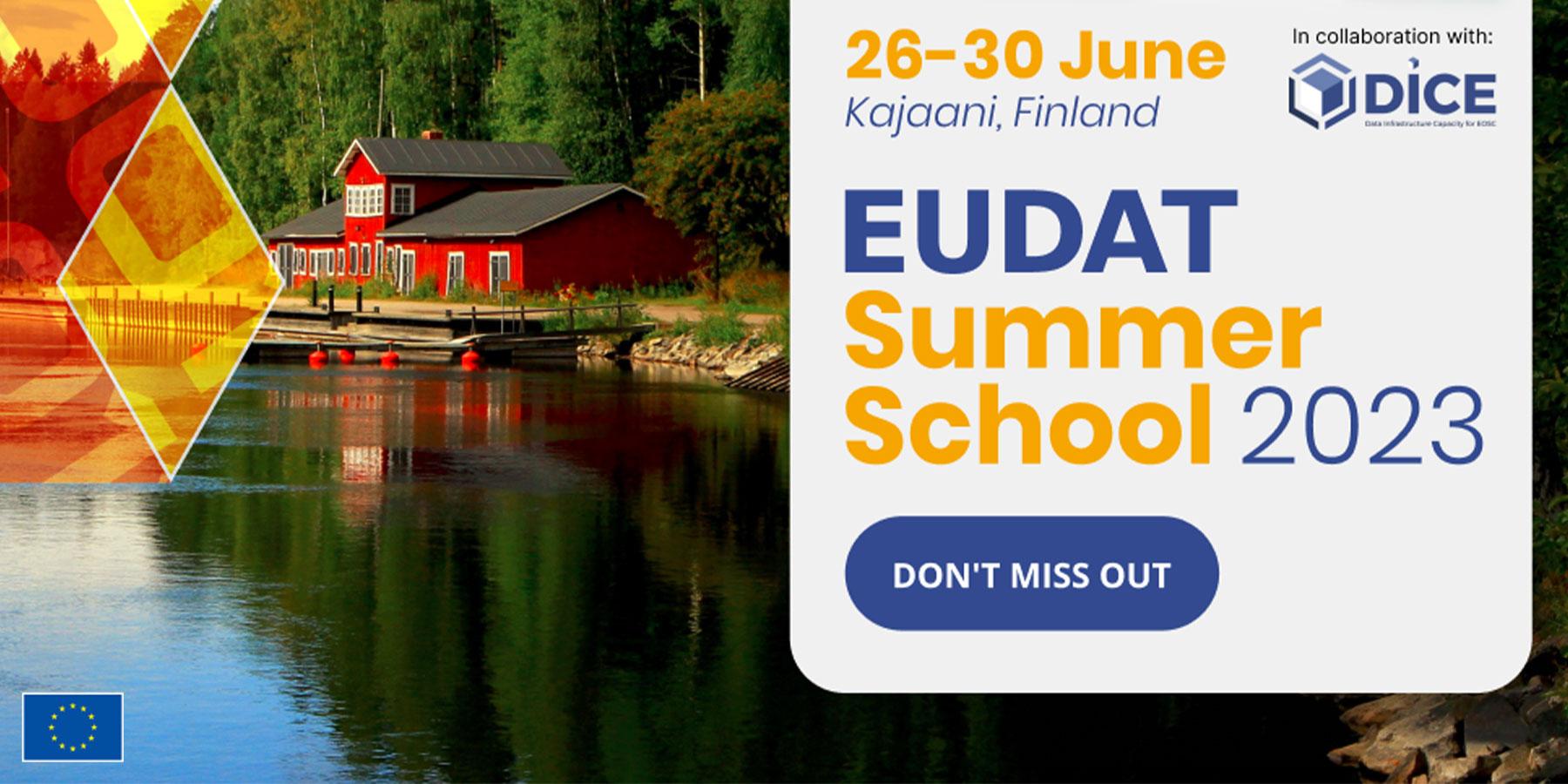 The EUDAT Summer School 2023 will be hosted between the 26 and 30 of June 2023 in Kajaani, Finland.
First deadline: 15 May, Final Deadline: is 26 May.
 
---

This edition, organised in collaboration with the DICE project, aims to strengthen the skills required to excel in data management, getting the participants geared up to manage and process data throughout the full, research-data lifecycle (data discovery; data processing; data analysis; data preservation and publishing).

Experienced trainers will guide the students by combining traditional theoretical lessons with hands-on sessions.

Interested applicants are encouraged to apply early as accommodation and travel support will be provided to a limited number of students and participants.
Two Tracks: Users and Providers
A new scope will be introduced in this edition of the EUDAT Summer School. For the first time, we are now offering a Providers Track for research or academic institution IT system administrators, community or data managers looking at providing research data services for their communities, in particular those that are interested in learning how to deploy EUDAT services.
The Users Track will continue providing early career or Bachelor, Masters, PhD or Postdoc programme students currently engaged in complex research environments with the latest best practices in research data management covering the complete research data lifecycle.
Please note that these are tentative schedules. While topics may be fixed, the titles may change closer to the date.
Main Benefits
Financial Support
Courses are free
Majority of accepted applicants will benefit from free partial board (breakfast, lunches and coffee breaks) and lodging (accommodation from 25-30 June 2023).
Top applications will receive financial reimbursement towards travel costs (flights and/or train)
Certification & Opportunity for Extra Credits
All students that complete the EUDAT Summer School will be provided a certificate of completion and recommendation letter for the awarding of extra ECTS credits towards their academic programme in their home institution
Unique experiences
Experience the "midnight sun" - a natural phenomenon that occurs in the summer months where daylight exists even during midnight
Cutting-edge topics amidst nature - Kajaani is a city immersed in nature with a river, lake and woods and more! See nature attractions.
26 hours a day - apparently, there are 26 hours in a day in Kajaani (according to the official city website)
Explore Finnish culture through traditions such as the Finnish sauna and unique cuisine.