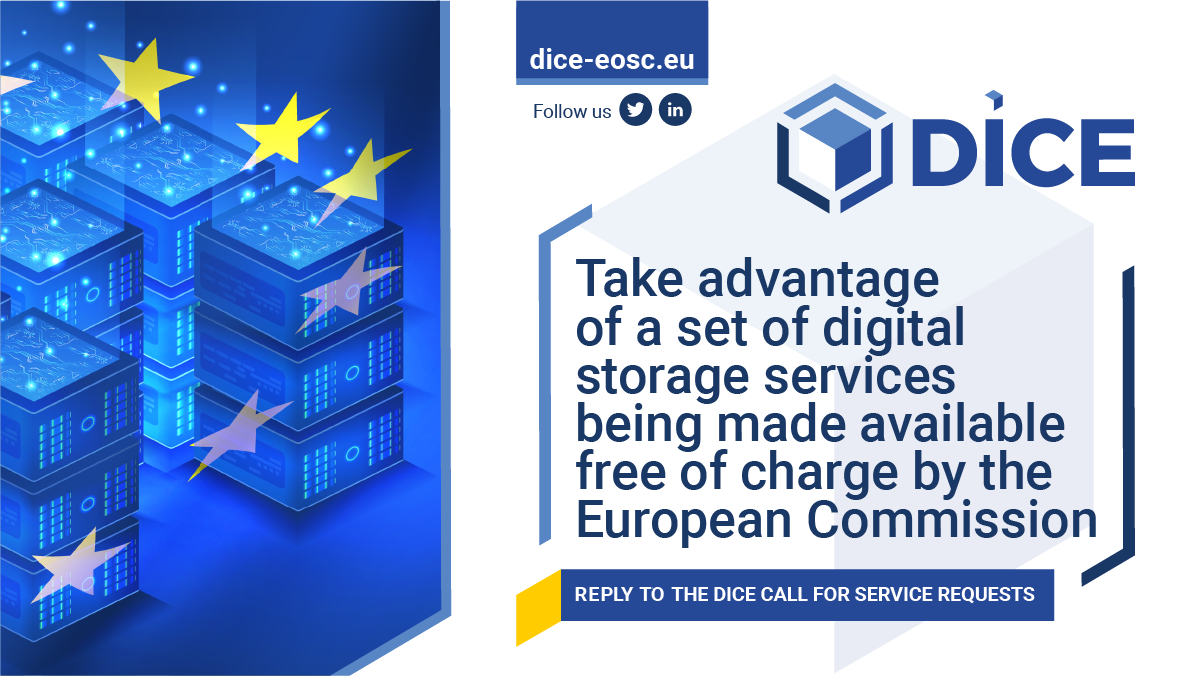 Take advantage of a set of digital storage services being made available free of charge by the European Commission
The main goal of the Calls for DICE Service Requests is to encourage European researchers to take advantage of a set of digital storage services being made available free of charge by the European Commission. The offering includes a broad spectrum of services ranging from the familiar "personal drive storage" for individuals and small teams up to extremely sophisticated value-added facilities for long-term preservation, identification, metadata curation, and implementation of FAIR principles for data-intensive research projects. The services offered include the EUDAT services complemented with additional state-of-the-art services. In addition, the DICE project has defined a simple and efficient process to minimize the time to service acquisition, reducing it in some cases to days.
Why is it free of charge?
As part of its initiative to enlarge the EOSC user community, the European Commission has made available over six million Euros to enable storage providers around Europe to offer free data storage facilities to the research community through an innovative funding instrument known as Virtual Access (VA). The VA funding mechanism makes it possible for providers to be compensated fairly and equitably while transparently offering new users their services at no cost until June 2023. (After June 2023, providers will of course continue to offer their services as part of their mission, under appropriately agreed conditions of use.)
What is the DICE Data Storage Service Offering?
DICE offers "something for everyone", from the individual citizen scientist all the way up to the most demanding scientific research project.
Open Call for Service Requests
Who is Eligible?
Any individual or research entity located within the EU Member States or Associated Countries is eligible to access the DICE services free of charge. Only new users may be considered: that is, those who are not yet using the same data storage offering (for example, through separate funding from national authorities).
How do I submit my request?
Many services provided via DICE are already available in the EOSC portal. To apply, simply login to the EOSC Portal here, select the service of your interest and submit an order, indicating that this is a DICE request. 
More services will be made available in the EOSC Portal in the upcoming months. If you are interested in a service not yet listed in the EOSC portal or to have more information please do not hesitate to contact the EUDAT helpdesk.  
How long will it take?
It depends on the level of service requested.
Basic service requests are satisfied immediately after request, within the same day, and it needs just an account registration – for example, an individual user requesting a "personal workspace".
Standard Service may require the selection and configuration of service providers, extending the time from 2 to 10 working days. For example, a research project requesting "policy-based data archives" may need to be served by a combination of providers, each furnishing one of the value-added services requested by the project.
Customised Service may require a deeper analysis of the needs of the user, followed by negotiation with the pool of DICE service providers in order to arrive at an appropriate selection and configuration of providers. Processing could take longer than for a standard service request, depending on the complexity of the situation.
Will there be more calls for service requests?
You may request the DICE data storage services at any time, irrespective of the timing of calls like this one. So, submit your request now!
 
Do you also need other services beside data management (such as compute services)? Check out the EOSC Platform Early Adopter Programme, which offers guidance to news users in finding all of the services they need in the EOSC Platform!
If you need any additional information, please contact us at info@dice-eosc.eu